Dentist Blog
Posts for tag: Gum Disease
By Thomas W. Kauffman, DDS
January 05, 2019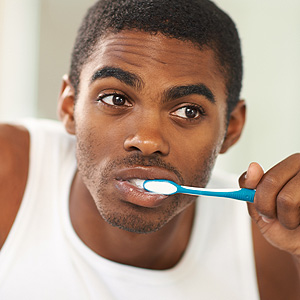 While tooth decay seems to get most of the "media attention," there's another oral infection just as common and destructive: periodontal (gum) disease. In fact, nearly half of adults over 30 have some form of it.
And like tooth decay, it begins with bacteria: while most are benign or even beneficial, a few strains of these micro-organisms can cause gum disease. They thrive and multiply in a thin, sticky film of food particles on tooth surfaces called plaque. Though not always apparent early on, you may notice symptoms like swollen, reddened or bleeding gums.
The real threat, though, is that untreated gum disease will advance deeper below the gum line, infecting the connective gum tissues, tooth roots and supporting bone. If it's not stopped, affected teeth can lose support from these structures and become loose or out of position. Ultimately, you could lose them.
We can stop this disease by removing accumulated plaque and calculus (calcified plaque, also known as tartar) from the teeth, which continues to feed the infection. To reach plaque deposits deep below the gum line, we may need to surgically access them through the gums. Even without surgery, it may still take several cleaning sessions to remove all of the plaque and calculus found.
These treatments are effective for stopping gum disease and allowing the gums to heal. But there's a better way: preventing gum disease before it begins through daily oral hygiene. In most cases, plaque builds up due to a lack of brushing and flossing. It takes only a few days without practicing these important hygiene tasks for early gingivitis to set in.
You should also visit the dentist at least twice a year for professional cleanings and checkups. A dental cleaning removes plaque and calculus from difficult to reach places. Your dentist also uses the visit to evaluate how well you're doing with your hygiene efforts, and offer advice on how you can improve.
Like tooth decay, gum disease can rob you of your dental health. But it can be stopped—both you and your dentist can keep this infection from ruining your smile.
If you would like more information on preventing and treating gum disease, please contact us or schedule an appointment for a consultation.
Perio Maintenance: What Does It Mean?
"What is the difference between a regular cleaning and perio maintenance?" a routine question encountered by almost every dental professional. This post will attempt to explain the differences and reasoning behind the differentiation.
There are two kinds of routine dental cleanings, a regular cleaning and a periodontal maintenance cleaning. Regular cleanings are designed to assist healthy mouths by removing stains and tartar that can only be removed by a dental professional. Perio maintenance appointments are designed for patients that have been treated for periodontal (gum) disease. The reason for this deeper cleaning has its roots in what we know about gum disease.
Gum disease (periodontal disease) is a persistent bacterial infection around the gums and bone that support your teeth. Any of the following signs may be an indication that you have an infection:
· Red, swollen, and tender gums
· Gums that bleed after brushing or flossing
· Persistent bad breath
· Pain while chewing
· Loose teeth
Gum disease can be caused by a number of factors including smoking, non-smoke tobacco, some RX and OTC medications, genetics, diabetes, hormonal changes in girls/women, and diabetes.
Our hygienists can assess your tissue for periodontal disease by performing a quick, relatively painless test to measure the size and depth of the pockets in the gums. Pockets that are 5mm or more in depth generally indicate an infection.
If, after an exam, it is determined that you have gum disease you may need a special cleaning called "scaling and root planing", or possibly periodontal surgery. After those initial treatments the type of routine cleanings that are recommended are called periodontal maintenance therapy. The purpose of these special cleanings is to preserve the progress that you have made.
Once periodontal disease is brought under control with treatment, it is very important that you get periodontal maintenance care on a regular basis from your dentist, hygienist, or periodontist (a dentist with a specialty in treating gum disease). Cleaning your mouth daily at home is a must, but it is not enough to keep periodontal disease in check. A normal cleaning removes stains and tartar from the surface of teeth that could not be removed otherwise. Patients with gum disease however have developed pockets in the gum surrounding their teeth, these pockets can fill with plaque and tartar, and require a deeper cleaning in order to remove and halt the effects of that buildup on the health of your gums.
Periodontal disease is a condition (like Diabetes or High Blood Pressure), this means it cannot be completely cured, but it can be managed.
If you are concerned about the health of your gums, or just overdue for your bi-annual cleaning please give us a call to schedule a consultation today!