Dentist Blog
Posts for tag: Crowns
By Thomas W. Kauffman, DDS
February 14, 2019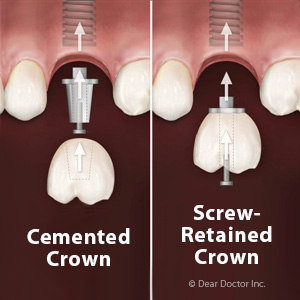 If you've lost a tooth, you have a number of options for replacing it. Perhaps the best choice in terms of lifelikeness and durability is a dental implant.
All implants have the same basic architecture: a titanium metal post imbedded in the jawbone to replace the root; and an abutment, a metal collar that links the post with a lifelike porcelain crown. But implants can vary in how the crown attaches to the abutment and post — either cemented to the abutment or screwed through the abutment to the post.
Either method will permanently secure the crown to the implant. But there are advantages and disadvantages for each.
A screw-retained crown may better facilitate any future repair that might be needed. For a skilled dentist it's a simple matter of removing the screw and then the crown from the abutment. There's less risk of damage to the implant during repairs or crown replacement. Many dentists also prefer screws for crowns placed at the same time they're installing the implant post (a procedure called immediate loading).
The screw access hole, however, could pose a cosmetic problem. Although we can cover it over with tooth-colored filling, it may still be noticeable and unattractive especially for a tooth visible when you smile (in the smile zone). There's also the possibility the porcelain around the access hole could chip.
By contrast, cemented crowns have a smooth, unbroken surface and are aesthetically ideal for smile zone teeth. But the cement could interact poorly with gum and bone tissue in some patients, causing inflammation and possible bone loss.
And unlike screw-retained crowns, cemented crowns are difficult to remove for implant repair. We may have to drill through the crown to access the screw between the abutment and the post, and then repair it cosmetically if we use the same crown. Again, the final result may not be quite as visually appealing.
In the end, it will depend on the implant's location, how your body reacts to the cement or your dentist's preference. In either case, though, you'll have a tooth replacement that's functional, life-like and able to endure for many years to come.
If you would like more information on dental implants, please contact us or schedule an appointment for a consultation. You can also learn more about this topic by reading the Dear Doctor magazine article "How Crowns Attach to Implants."
By Thomas W. Kauffman, DDS, PC
December 22, 2015
If you need a crown but don't want to make more than one trip to the dentist, a CEREC crown might be an option worth considering.
Patients in the Atlanta area might consider exploring this option with Atlanta Sedation Dentistry, a long-time Atlanta-area practice that
specializes in CEREC procedures, including same day crowns.
What is crown and why do I need one?
A crown, also called a cap, is a replacement cover that is placed over a tooth to keep it from breaking, or to replace a tooth that is already broken. Crowns can be made from a variety of materials, including metals and/or ceramic. Traditionally, a patient who needed a crown would have to undergo two appointments. During the first appointment a mold was made to manufacture a permanent crown in a laboratory and a temporary plastic crown was affixed to the tooth. During the second appointment the temporary is replaced with the permanent crown.
What is a CEREC crown?
CEREC(Chair side Economical Restorations of Esthetic Ceramic) is a company that has developed a process for custom designing and manufacturing same-day ceramic dental restorations such as crowns via a Computer Assisted Design system. This allows the dentist to design the crown according to the specific needs of the patient and to manufacture it from a block of ceramic, on-site, and install it all in one appointment.
According to the American Dental Association, CEREC crown procedures are a viable treatment option with a high long-term success rate.
What are some advantages of CEREC crowns?
Convenience – the permanent crown can be designed and manufactured on site and permanently installed all in the same appointment.
Cost – the procedure tends to cost less as it only requires one appointment.
Material – the material used is ceramic; there is no metal. This means that not only is it more visually pleasing but there is no chance of a patient suffering a reaction from a metal allergy.
It is generally agreed that CEREC crowns are most successful on less visible or posterior teeth. This is because it may be difficult to match the color gradients in a patient's natural teeth with a ceramic block that only has a standard color gradient. Therefore, a patient having a crown done on a front tooth might wish to have the crown designed and built in a laboratory.
Your dentist can help you determine the best option for you. For more information call Atlanta Sedation Dentists at 404-524-1981 or visit the website at www.atlantasedationdentistry.org.
When someone loses or damages their tooth, they never want to wait multiple visits before their smile can be restored. If you have a damaged tooth, with advancements in dentistry you no longer need to wait multiple visits. With
CEREC
you can easily receive same day crowns in Atlanta with help from Dr. Thomas Kauffman.
Utilizing cutting edge computer mapping, CEREC is able to make a complex 3D map of the desired tooth or teeth. It allows Dr. Kauffman to quickly restore damaged teeth with natural-colored ceramic fillings, saving patients time. CEREC has two decades of clinical research and practical experience to support its success with more than 8 million restorations performed worldwide.
How Does CEREC Work?
CEREC, which stands for Ceramic Reconstruction, is a recent innovation that many cosmetic dentists are using to provide natural looking crowns faster than traditional crown procedures. This is a computer-aided design and computer-aided manufacturing, or CAD-CAM, for the creation of your crown, which is created by a computer to fit your tooth perfectly.
With the CEREC system, your cosmetic dentist in Virginia Beach can create beautiful life-like porcelain restorations for your teeth. An infrared camera takes images of your tooth after shaping. A CAD-CAM computer program immediately downloads the images of your teeth to create a three-dimensional virtual model that can be viewed and manipulated on the computer monitor. The computer-aided technology eliminates the laboratory step in manufacturing your crown, which allows for your treatment to be completed in one visit.
What are the Benefits of CEREC – Same Day Crowns in Atlanta?
Restoring your tooth, or teeth, with CEREC brings an array of benefits to your smile. One of the main benefits is that they can be created in a single visit, which saves time for you and your dentist. Potential discomfort is eliminated because there is no need for a temporary crown between procedures, which allows for a more comfortable experience. CEREC crowns also do not contain any metal, allowing them to be esthetically pleasing and natural looking.
CEREC crowns are also beneficial for your tooth restoration for these reasons:
Less time is spent in the dental chair

Hi-Tech accuracy

Less tooth structure is lost in many cases

Natural, tooth-colored restoration

Less chance for complications with preservation of healthy tissue

CEREC is environmentally friendly

Precise for long-lasting results
A tooth-colored restoration means no more silver fillings to discolor your smile. Dr. Kauffman no longer needs to create temporaries or take impressions to send to the lab. CEREC restorations have been proven precise, safe and effective.
CEREC allows you to have a fully restored, natural-looking crown, veneer or inlays in one simple visit. It eliminates messy impressions, and discomfort of temporary crowns. If you are in need of a dental restoration, contact your Atlanta, GA dentist, Dr. Thomas Kauffman, for more information on how CEREC works and if it is an appropriate solution for bringing your smile back to life.