Dentist Blog
Posts for: November, 2017
By Thomas W. Kauffman, DDS
November 17, 2017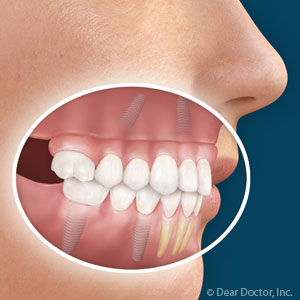 Losing permanent teeth is never good — unlike primary teeth, no natural replacements wait in the wings. But the good news is you have a number of options for replacing them with life-like prosthetic (false) teeth.
Today's premier choice is dental implants, preferred by dentists and patients alike for their durability and life-likeness. But because of their cost when replacing multiple teeth, many people opt for traditional dentures. And now dentures are easier to wear and maintain thanks to new, advanced materials and designs.
Still, there's one major area where implants have the definite edge over dentures — long-term bone health. Older bone cells die and dissolve (resorb), replaced then by newly formed cells. Teeth help perpetuate this cycle through the forces generated when we chew that travel through the roots to stimulate the formation of new bone.
But because this stimulation through a tooth ends when it's lost, new bone beneath the empty socket may not keep up with the resorption rate of older bone. As a result, you could lose as much as a quarter of normal bone width in just the first year after losing a tooth.
This bone loss will continue to accumulate even if you wear dentures, which can't replicate the bone growth stimulation of natural teeth. What's more, the constant pressure on the bony ridge of the gums can accelerate bone loss. Eventually, the firm, comfortable fit you first had with your dentures will become looser and less comfortable with the shrinking bone volume.
Implants, on the other hand, can stop bone loss and may even reverse it. This is because the titanium metal of an implant has a special affinity with bone cells that readily grow and adhere to it. This creates the anchorage responsible for the implant's durability, but it's also healthy for the bone.
Of course, this doesn't have to be a binary choice between the two restorations thanks to a new hybrid advancement that combines implants with dentures. We can install as few as two implants to support a removable denture. You'll enjoy greater stability, fit and durability with your dentures, while also improving bone health through the implants.
So before you decide on a dental restoration, be sure to discuss with us your implant options. Your oral health and appearance could benefit immensely.
If you would like more information on dental restoration, please contact us or schedule an appointment for a consultation. You can also learn more about this topic by reading the Dear Doctor magazine article "The Hidden Consequences of Losing Teeth."
By Thomas W. Kauffman, DDS
November 02, 2017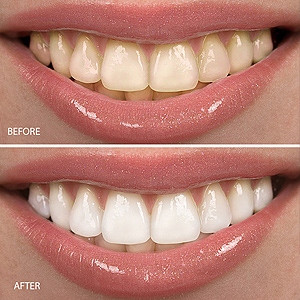 Bright, naturally white teeth are a key component in a beautiful smile. But the opposite is also true: nothing diminishes an otherwise attractive smile more than stained or discolored teeth.
There is good news, however, about tooth staining: it can be greatly reduced with the right whitening technique. But before taking action we need to first uncover the cause for the staining — whether from the outside or inside of the tooth, or a combination of both.
If it's an external cause — known as extrinsic staining — our diet is usually the source. Foods and beverages that contain tannins, like red wine, coffee or tea fall in this category, as do foods with pigments called carotenes as found in carrots and oranges. Besides limiting consumption of stain-causing foods and maintaining daily oral hygiene, you can also diminish extrinsic staining with a bleaching application.
There are two basic ways to approach this: with either a professional application at our office or with a home kit purchased at a pharmacy or retail store. Although both types use similar chemicals, the professional application is usually stronger and the whitening effect is obtained quicker and may last longer.
Discoloration can also occur within a tooth, known as intrinsic staining, and for various reasons. It can occur during tooth development, as with childhood overexposure to fluoride or from the antibiotic tetracycline. Poor development of enamel or dentin (the main sources of natural tooth color), tooth decay, root canal treatments or trauma are also common causes of intrinsic discoloration.
There are techniques to reduce the effects of intrinsic staining, such as placing a bleaching agent inside the tooth following a root canal treatment. In some cases, the best approach may be to restore the tooth with a crown or porcelain veneer. The latter choice is a thin layer of dental material that is permanently bonded to the outer, visible portion of the tooth: it's life-like color and appearance covers the discoloration, effectively renewing the person's smile.
If you've been embarrassed by stained teeth, visit us for a complete examination. We'll recommend the right course of action to turn your dull smile into a bright, attractive one.
If you would like more information on treatments for teeth staining, please contact us or schedule an appointment for a consultation. You can also learn more about this topic by reading the Dear Doctor magazine article "Teeth Whitening."