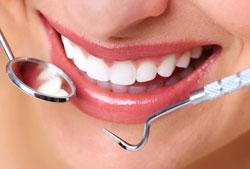 When you look at yourself in the mirror, is there anything you would like to change about your smile? Many people are unhappy with the appearance of their teeth, which is why they choose esthetic dental procedures for various reasons, including repairing a defect such as a malformed bite or crooked teeth. 
Cosmetic dentistry is available to help improve the look and feel of your smile.  If you are looking to enhance your image, there is an array of modern and sophisticated dental treatments available to fit your needs and your budget.  By visiting our cosmetic dentist in Atlanta, Dr. Thomas Kauffman, you can take the next step toward an overall improvement in the appearance of your teeth, leaving you with one more reason to smile.
A Hollywood Smile
We have all noticed the perfect smiles of actors and actresses, but do you know how they achieved that red carpet worthy smile? It's simple—dental veneers.  If your teeth are cracked, stained, uneven or chipped, dental veneers might be the perfect option for transforming even the most damaged smiles. Dental veneers are thin, porcelain shells that are custom designed by your Atlanta cosmetic dentist, Dr. Kauffman, to perfectly cover and match your natural smile. 
Get a Bright, White Smile
Whether you are a smoker or a lover of foods and drinks that stain your teeth, many people are not happy with the appearance of their smile.  Depending on the whitening method you choose, treatment can potentially be completed in one visit with your cosmetic dentist in Atlanta, Dr. Kauffman.  By visiting our office, we can help you determine the best whitening procedure: in-office or take-home whitening kits.
By visiting our cosmetic dentist in Atlanta, you can achieve a more confident smile through the availability of various cosmetic dentistry procedures. Talk to Dr. Thomas Kauffman today about cosmetic dentistry, your goals for treatment and which options might be the best for improving the appearance of your smile.