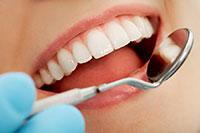 When you visit your Atlanta dentist, do you sometimes hesitate to tell us when you are experiencing pain? Do you accept that pain is just a normal part of the dental experience? This is only true if you say nothing to your dentist during your procedure.
If you are able to communicate with your dentist during your visit, you will be able to enjoy a more pleasant experience at the dental office. Communication is a key part of avoiding dental anxiety and making the best decisions about your personal oral health. So talk to Dr. Thomas Kauffman—our dentist in Atlanta—for more information on proper communication.
Dental Anxiety
For many, an intense and real fear builds up when faced with the prospect of a dental visit. Since this is a very common anxiety, dentists should be trained and prepared to deal with dental anxiety. However, if you do not communicate your feelings of anxiety to Dr. Thomas Kauffman, our family dentist in Atlanta, the fear will continue to get worse and seeing the dentist will become more and more difficult each time.
The key to controlling dental anxiety is to be open and honest with Dr. Kauffman about what you are feeling. If he does not know how you are feeling, he will not be able to do anything to make you feel more comfortable. Once Dr. Kauffman is fully informed of your condition, he will be able to make sure that you are feeling comfortable at all times during your dental visit.
Choosing the Right Treatment Option For You
Another time where communication is very important is when you face a decision about what course of treatment you should pursue. Because of technological advances in modern dentistry, many times you are presented with a choice of several different options. In situations like these, it is very important for you to be honest with Dr. Kauffman and our staff about your concerns. By knowing what you are most comfortable with and your financial situation, we will be able to collaborate with you to come up with the best course of treatment.
Taking Control
One particular reason why people don't enjoy going to the dentist is because they feel like they lose control of what is happening to their bodies. When something causes them pain, they feel like they can't do anything to stop it. This method of thinking is problematic. Dr. Kauffman is there to make you feel comfortable and offer you the best possible care. Simply let our Atlanta, GA dentist know that you are feeling uncomfortable.
As a dentist in Atlanta, GA, Dr. Thomas Kauffman encourages you to schedule an appointment with our office to learn more about your dental care and to keep the lines of communication open.